We meet on Thursday nights at 6:15 at 902 George Bush Drive in the Episcopal Student Center/Canterbury Cafe across from the MAC. We have food, fellowship, and worship every Thursday night.
We also gather at least one Tuesday a month somewhere in the community for Theology on Tap, for dinner, drinks, and discussion of life and God. On other Tuesdays, we have small groups/bible study.
See our upcoming schedule here.
Are you new to Aggieland or the Blinn community or just looking for a place to connect? We've got a place for you!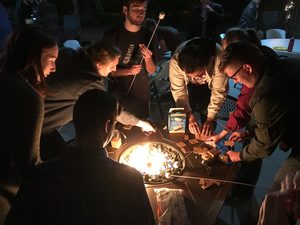 Freshman/First Year/Transfer Students: Transitioning to college (and College Station) has its joys and challenges. We'd love to support you during this time, and have a number of ways to help you connect.
Other Students: Are you looking to connect to a community, but aren't sure what to expect? All are welcome in this community, regardless of your background, denomination, or experience. Pr. Jerry or the leadership team would love to take you out for coffee to get to know you better and to tell you more about this group. There is a place for you in Treehouse!
Don't have a car? No problem! Our upper-class folks are glad to pick you up – for church, for regular gatherings, and to take you out for coffee.
To be added to our listserv or to learn more about connecting to this ministry, contact Pastor Jerry.